New Nissan 2020 Nissan Altima vs 2020 Toyota Camry in San Antonio TX in San Antonio TX l Near Austin
2020 Nissan Altima vs 2020 Toyota Camry in San Antonio TX
View Inventory


Vehicle Overview
The 2020 Nissan Altima is cut from a different cloth this year, driven to stand out in a way that it never has before. Ancira Nissan was thrilled when we saw the specs on this one, and we knew it's going to be a critical part of serving San Antonio Boerne Lackland Air Force Base customers with a renewed sense of fun in driving this coming year. Our 2020 Nissan Altima vs 2020 Toyota Camry comparison is designed to show you exactly the the Altima has finally surpassed the 2020 Toyota Camry on many different levels. While there will always be mid-size sedan lovers who prefer the Camry, we see more reasons now than ever before to make the switch to an Altima. Here are just a few good reasons why.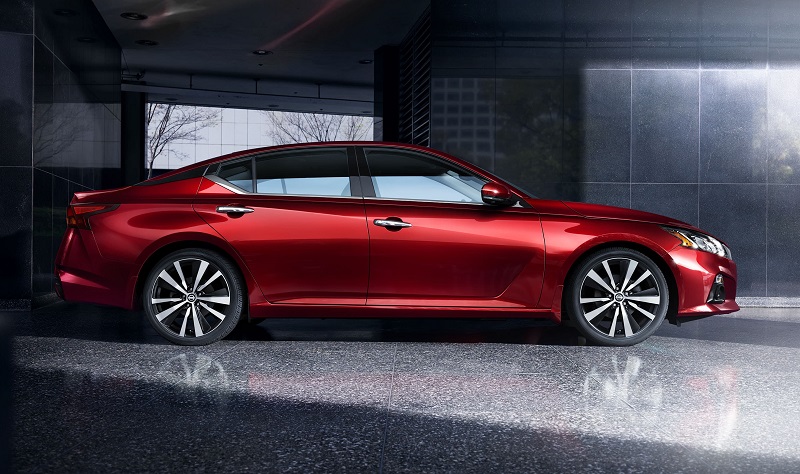 Exterior – 2020 Nissan Altima
Critics went wild for the Altima's new sporty personality. It translated to the perfect mix of sport and luxury, all rolled into one. In short, it's everything the 2020 Toyota Camry aspired to be. The 2020 Altima's new design is serving San Antonio Boerne Lackland Air Force Base with an Altima like you've never seen it before. Winged taillights and LED headlights are but two of the design features on the Altima's new exterior that make it unlike anything else you've ever seen on the road. Sharp lines and curves are driven to sharp angles for a winged appearance that reminds one of flight. The Camry plays it safer, with a more conventional design that doesn't aspire to take things to new heights. We say ditch the conventional on this count, and go grab an Altima from Ancira Nissan.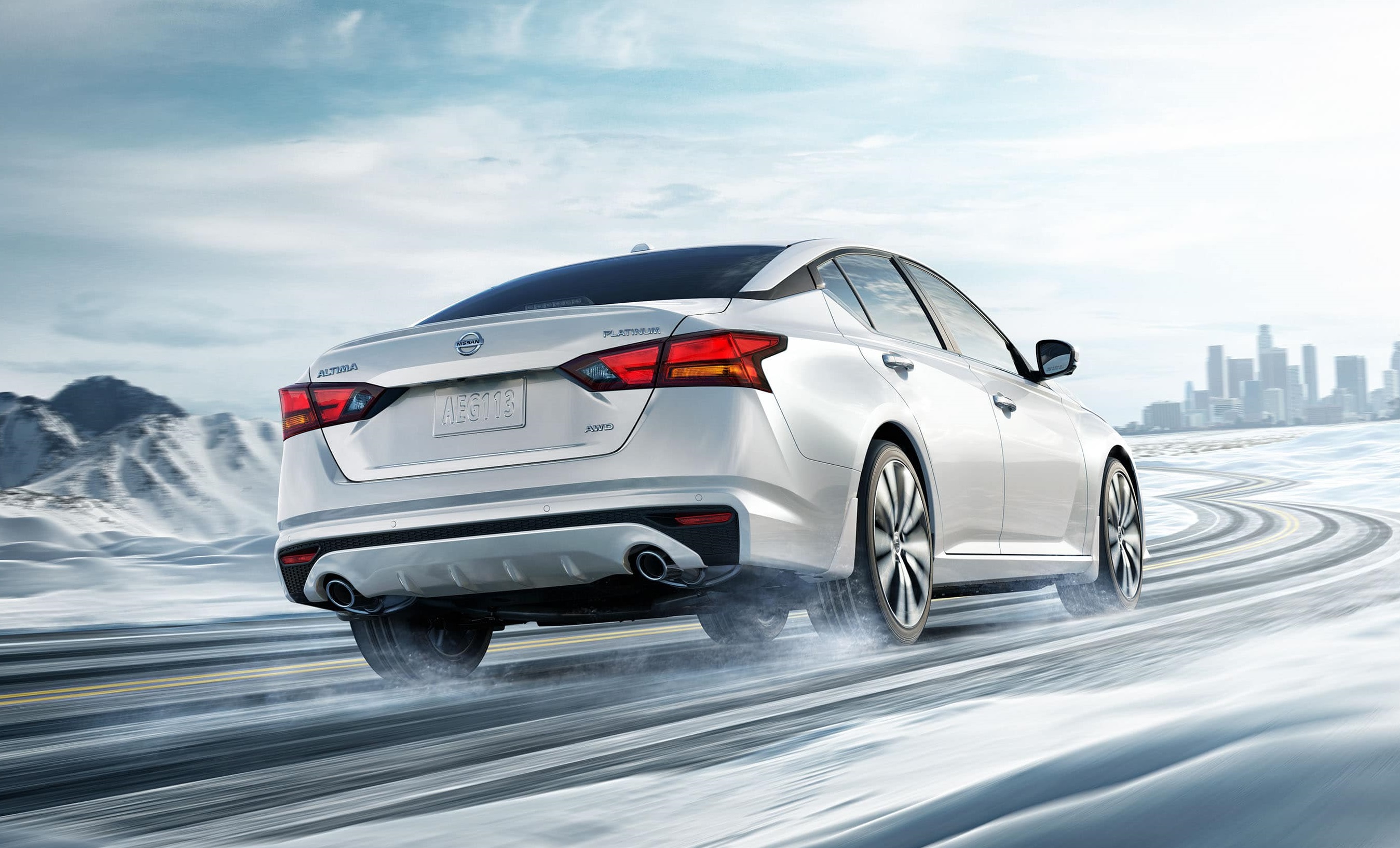 Interior – 2020 Nissan Altima in San Antonio TX
The new Altima boasts more front leg room than the Camry, but that's not the only reason you need to consider grabbing an Altima this year. Its S, SR, SV, SL, and Platinum trim levels really bring their A-game in 2020. The Sporty SR has athletic touches all throughout the interior, all while maintaining a soft touch look and feel that is comforting and inviting. The Platinum nets ambient cabin lighting that really sets a pleasant tone for everyday you commute. It's the perfect "going to work" and "going out on a date" vehicle, and we know it's going to appeal to older and younger people alike. The Camry simply doesn't live up to the high standards of the Altima in any way in this year's interior comparison.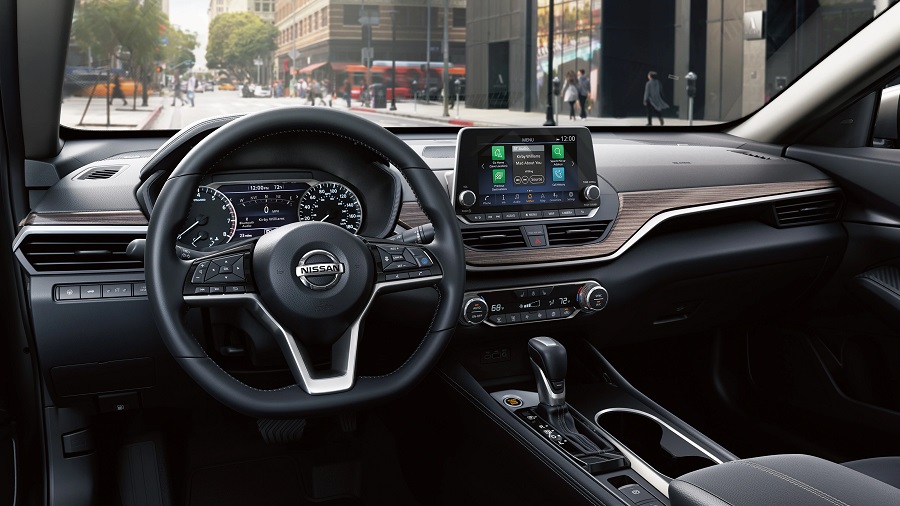 Interior tech on the Altima is also much improved, with an 8-inch touchscreen that really lets you take advantage of the 360-degree camera feature this year. And thanks to a 60/40 split-folding rear seat, you are able to configure your interior in any way you want to maximize either cargo or passenger space. In short, it's the perfect car for just about any situation. The Camry just dishes out more of the same, but the Altima gets better in every way.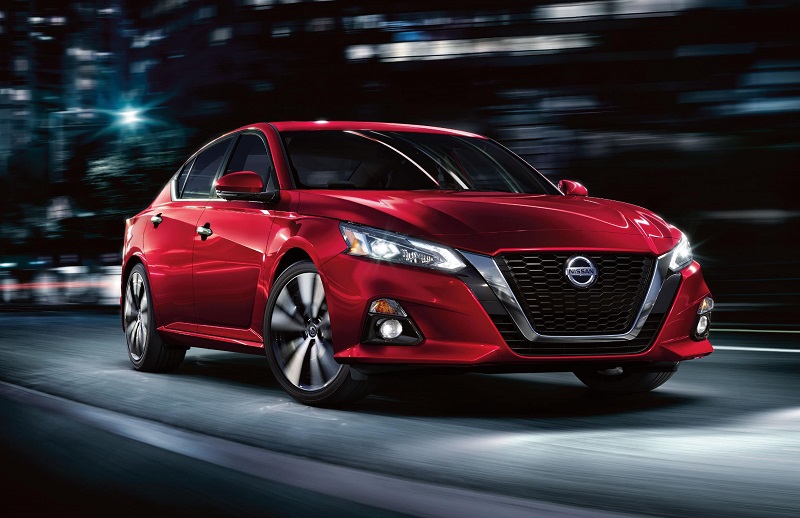 Safety – Altima specs in San Antonio
Our families and our dealership both believe that safety in a vehicle isn't an option in 2020. You've got to have intelligent features that make your car smart enough to really keep you confident and safe while on the road. Your 360-degree camera feature is a good example of how Altima is setting the standard on safety in the mid-size sedan market. The S comes standard with a host of Nissan's intelligent safety features: Automatic emergency braking and collision warnings are just two of the features you net with Nissan's safety systems. A semi-autonomous vehicle is not truly here yet, but Nissan makes a great case that its recent suite of driver-assist features are as close as you can get to an autonomous vehicle these days. Gone are the days when a vehicle just alerted you to an accident. Now your Altima can intervene, brake, adjust steering, and really go to work on your behalf when you fail to act. While this won't prevent every accident in the world or account for every driving situation, Nissan does a much better job than the Camry at giving you confidence through safety features. We much prefer the Nissan model here on safety.
The Winner – 20202 Nissan Altima
It's official. The real Altima has finally shown up, and it put on a heck of a show. We don't know what got into the Altima's design team, but they decided that the Altima's days of taking a backseat to the Camry are over for good. This is the first "true" vision of the Altima that pleases not just Altima fans, but just about anyone who loves the mid-size sedan look. It's a vehicle that will serve you well while you adventure out into your world, or if you're not much on adventure, it's the vehicle that will make for a pleasant, soothing commute everyday. We highly recommend the Altima over the Camry.
Contact Us Today – 2020 Nissan Altima dealer
If you love what you've read about the Altima, don't delay! Get in touch with us today to schedule a test drive of your favorite Altima trim(s).