New Nissan 2022 Nissan Frontier vs 2021 Toyota Tacoma in San Antonio TX for Sale in San Antonio Texas
2022 Nissan Frontier vs 2021 Toyota Tacoma in San Antonio TX


View Inventory
The Nissan Frontier and Toyota Tacoma are among the most popular midsize pickups on the American market. The 2022 Nissan Frontier that will soon be available at Ancira Nissan is generating a lot of excitement because it ushers in the third Frontier generation. We got a preview of the new powertrain with the previous model, but Nissan has made it even better with improved fuel performance. One of the trim levels that have made the Frontier such as success is the Pro-X4. A current direct competitor to that trim is the 2021 Toyota Tacoma TRD Off-Road, and this review is an opportunity to compare the 2022 Nissan Frontier vs 2021 Toyota Tacoma in San Antonio with those particular trims in mind.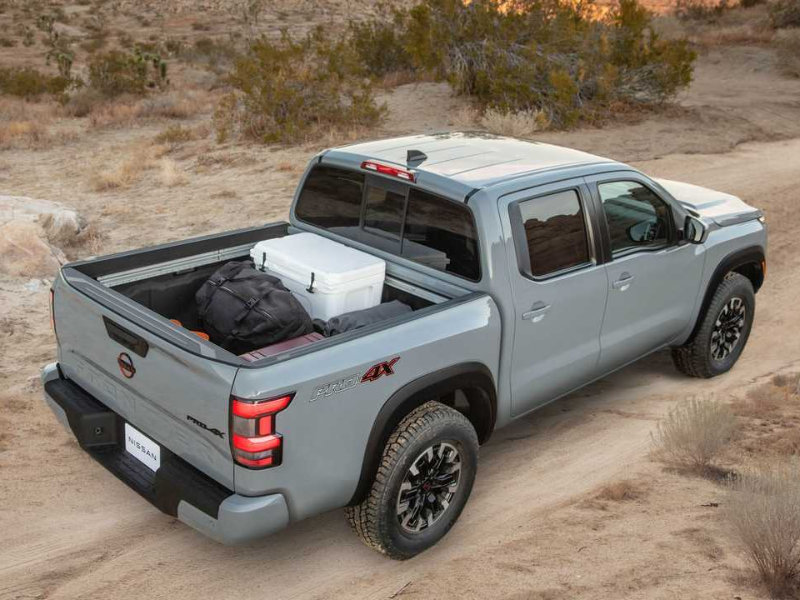 Exterior – Nissan Dealer serving San Antonio TX
The first thing that jumps out at us about the 2022 Nissan Frontier is how sleek and aggressive the new exterior design is. The 2021 Toyota Tacoma is a sharp-looking truck in its own right, but that exterior was designed more than five years ago, and it shows. As with its predecessor, the Frontier will be available with a two-door extended cab and a four-door crew cab, and this choice lets you determine whether you want to emphasize bed length or interior roominess. Toyota offers a simile choice with what it calls an access cab and a double cab. The bed options are similar, but the cabs are a bit smaller. It also worth noting that Nissan has introduced a Pro-X option for this model. This adds a lot of the design upgrades from the Pro-4X trim but not the mechanical upgrades that may not be needed.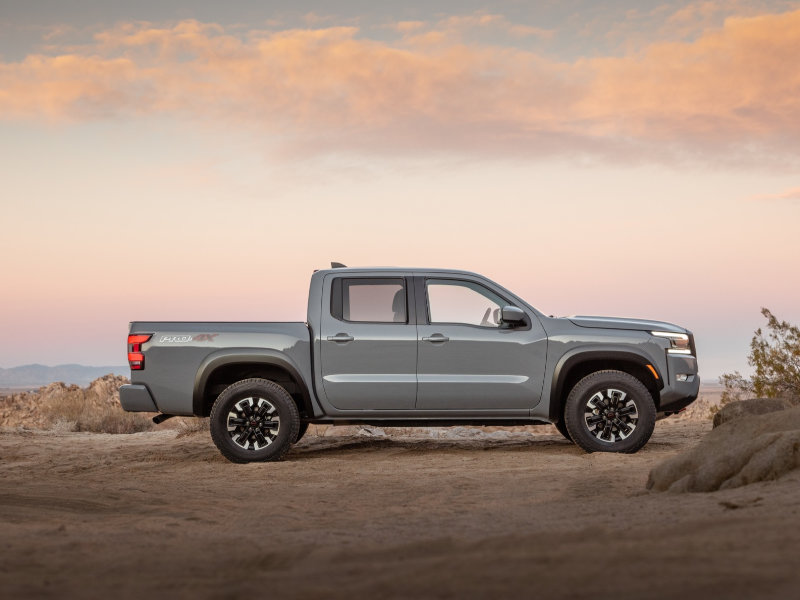 In both cases, the smaller cab can seat up to four, and the larger cabs available at local dealerships serving San Antonio Boerne New Braunfels Texas can seat up to five. The 2021 Toyota Tacoma was quite similar to the previous Frontier in terms of legroom. While we do not have the final specifications yet, we do know this was a point of emphasis for Nissan and thus expect it to be roomier. The larger Nissan cab was already more spacious than the larger Tacoma cab and we expect that to increase as well. As for the interior, we do not think this will be much of a competition until the 2022 Tacoma arrives. As Edmunds put it, Nissan "outdid themselves", and the Zero Gravity seats are a highlight!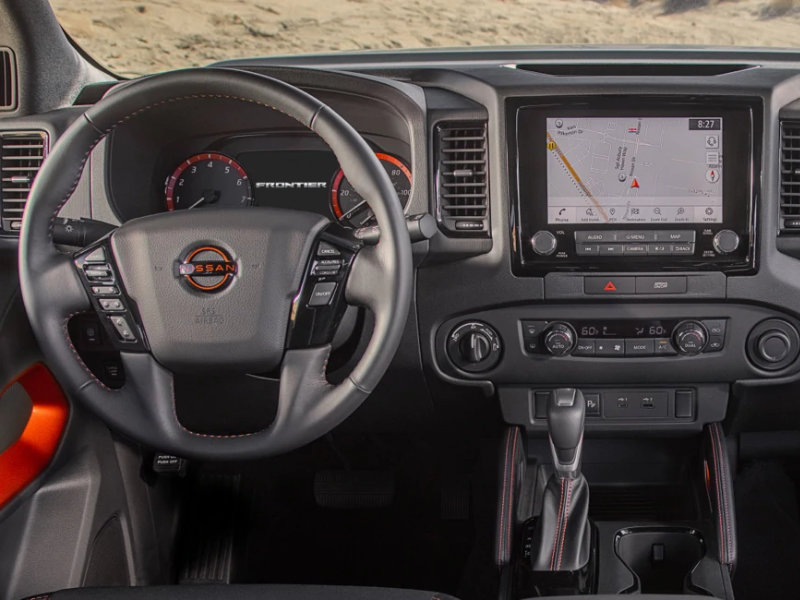 Nissan Frontier Mechanical specs
Perhaps no aspect of comparing the 2022 Nissan Frontier vs 2021 Toyota Tacoma in San Antonio gets more attention than the powertrain. After all, this is an important factor for anyone considering the Pro-4X or TRD Pro. All Frontier models have a nine-speed automatic transmission paired with a 3.8-liter V6 engine that makes 310 horsepower and 281 pound-feet of torque and can tow up to 6,720 pounds. The Pro-4X comes with four-wheel drive and a wide range of mechanical enhancements. The TRD Off-Road available at Toyota dealers serving San Antonio Boerne New Braunfels Texas comes with a six-speed automatic transmission and a 3.5-liter V6 that makes 278 hp and 265 lb.-ft. The TRD Off-Road comes with an off-road suspension but not the sheer scope of off-road upgrades that the Pro-4X does.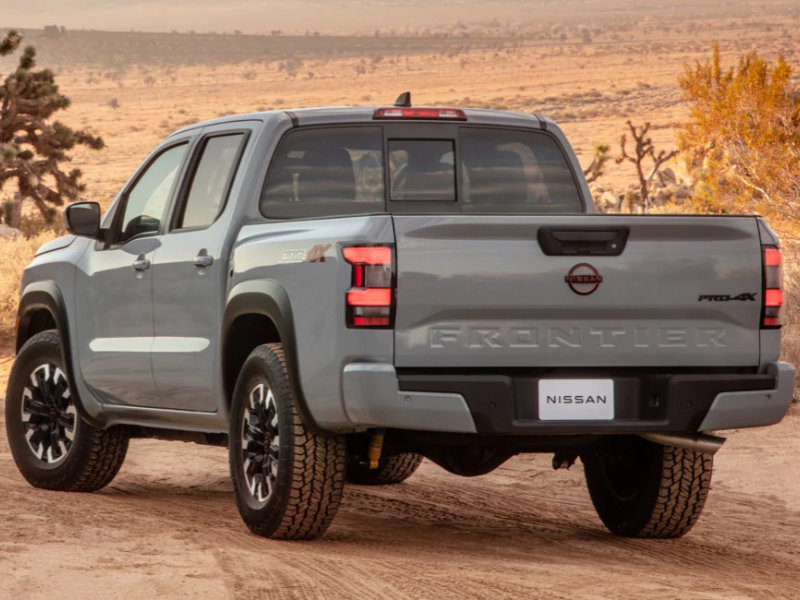 Tech – 2022 Nissan Frontier dealer
A notable change that Nissan has made with the Frontier is that all models now come with at least an 8-inch touchscreen, and you have the option of a 9-inch touchscreen. The Tacoma still has the 7-inch touchscreen that was common among the previous-generation midsize pickups. Both include some standard driver-assistance technologies, and Toyota deserves credit for being ahead of the game on this front. This issue is that if you are a driver who wants the full suite, you can get that with one package with the Frontier. With the Tacoma, on the other hand, some features are simply not available.
The 2022 Nissan Frontier is ready to test-drive, purchase and lease at Ancira Nissan. Our Nissan experts serving San Antonio Boerne New Braunfels Texas can help you with test-drives, trim comparisons, options, auto loans, leases and much more. Visit us at your convenience for a test-drive, or schedule your appointment through our website. Our site also features a wide range of useful online car-shopping tools. Compare trim levels and options, explore pricing and specializes, value your trade-in, calculate your payment, get preapproved for an auto loan or lease and get live assistance via chat!