New Nissan 2023 Nissan ARIYA in San Antonio TX for Sale in San Antonio Texas
2023 Nissan ARIYA in San Antonio TX


View Inventory
The team at Ancira Nissan serving San Antonio Boerne Leon Valley Alamo Heights and beyond is excited to introduce the 2023 Nissan ARIYA, which is available as of fall 2021. The ARIYA is an all-new nameplate from Nissan and the first all-electric crossover that the automaker has ever manufactured. This is an exciting time for the automotive world. Drivers in the U.S. are purchasing and leasing electric vehicles at a faster rate that anyone predicted, and crossovers are by far the most popular vehicle type. Nissan also aims to make the ARIYA even more compelling in what will soon be a highly competitive segment by giving consumers many ways to personalize their vehicles, and those options begin with four distinct trim levels: Venture+, Evolve+, Premiere and Platinum+.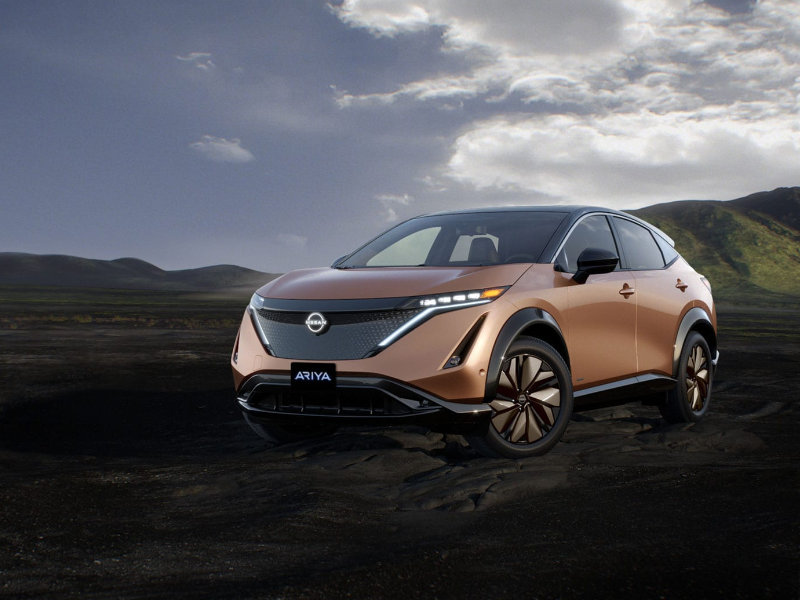 Exterior – Nissan Dealer serving San Antonio TX
The 2023 Nissan ARIYA in San Antonio is arguably the most visually distinct model in the Nissan lineup. In fact, Nissan innovated a new platform so that its engineers could design their ideal crossover, and that includes fluid exterior design elements that really set it apart from other crossovers. The wheelbase is 109.3 inches. The overall length is 180.9 inches or just a hair more than 15 feet, and the ground clearance is approximately 6.7 inches. Alloy wheels are standard. Most models will have 19-inch wheels. You will also have the option of 20-inch wheels, which will be standard in some cases.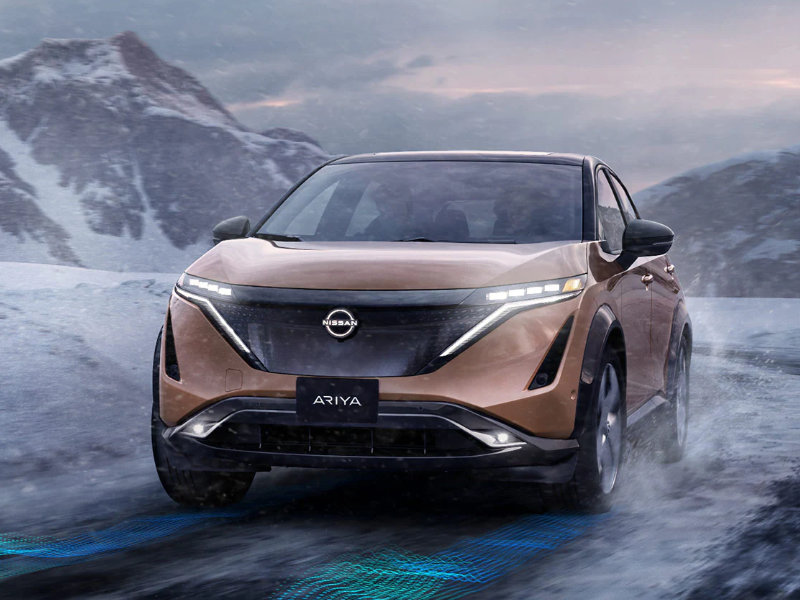 Nissan has not published the final interior specifications as of this writing. We do know that the 2023 Nissan ARIYA in San Antonio is a compact crossover with a wheelbase that is about 3 inches longer than the Rogue. Based on the information, we expect front legroom to be at least 42 inches and rear legroom to be at least 40 inches. The dedicated cargo space is 16.5 cubic feet if you opt for a front-wheel-drive model and 14.5 cubic feet if you opt for an all-wheel drive model. In both cases, the total cargo volume available when the rear seats are folded is almost 60 cubic feet.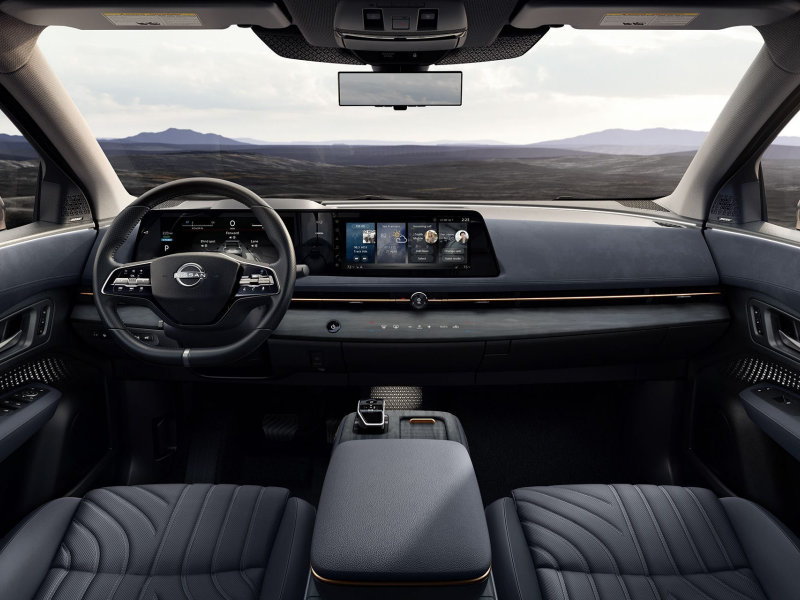 Nissan ARIYA Mechanical specs
Front-wheel drive is standard with the 2023 Nissan ARIYA. You also have the option of all-wheel drive. Both drive layouts will feature dual front electric motors, and the AWD models will have a rear electric motor as well. The ARIYA will support Level 1, Level 2 and Level 3 charging. Level 1 charging requires a 110-volt connection and is undoubtedly the slowest option but useful in a pinch. Most drivers will charge their vehicles at home with a Level 2 or 240-volt connection. Level 3 charging is the fastest but requires a DC Fast Charging station.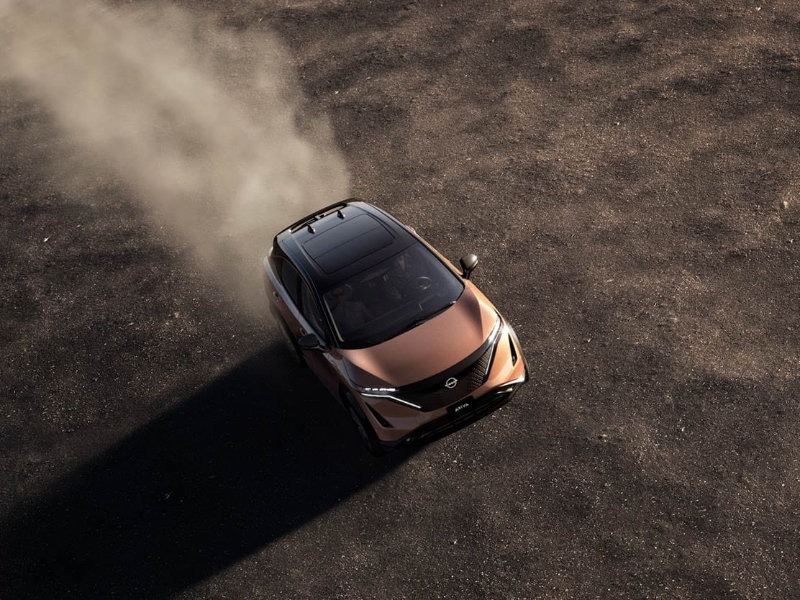 Powertrain – Nissan Dealership in San Antonio TX
The Venture+ is the base model available at our Nissan dealership serving San Antonio Boerne Leon Valley Alamo Heights. It has a 238-horsepower powertrain and is front-wheel drive, and it offers an extended range of up to 300 miles. The Evolve+ and Premier are more robustly equipped but have a slightly lower maximum range of 285 miles. The Platinum+ is the all-wheel-drive model. It has a 389-hp powertrain and thus a maximum range of 265 miles.
Safety – 2023 Nissan ARIYA dealer
All ARIYA models will come standard with Safety Shield 360, which is a suite of driver-assistance technologies. Nissan is also including ProPilot Assist with Navi Link with the base model. This system integrates with the navigation system to make highway driving more comfortable and convenient. The Evolve+ trim level upgrades the standard rearview monitor with a 360-degree camera system. The Premiere adds the more advanced ProPilot Assist 2.0 and ProPilot Park. ProPilot Assist 2.0 provides a semiautonomous driving mode, and this will be the first Nissan vehicle in the U.S. to feature this tech.
You can test-drive the 2023 Nissan ARIYA in San Antonio at Ancira Nissan. Appointments are not required, but we do schedule for clients who prefer it. If you have any questions or want a custom quote, you can call our dealership or reach us via text or email. You can also shop the ARIYA online through our website. Our site provides a wide range of tools and other resources to help you purchase or lease a vehicle, and if you need assistance, it is available via live chat.
The Nissan ARIYA is an all-new all-electric crossover that will be available in San Antonio Texas and throughout the U.S. by the end of 2022. Customers who want to own the ARIYA as soon as it is available are able to reserve their vehicles in advance of the official release. The ARIYA will offer a range of up to 300 miles, which is a significant improvement over the 226 miles offered by the Leaf. Prior to the ARIYA, the Leaf was the only EV in the Nissan lineup. Nissan will offer a standard battery pack and an extended-range battery pack. It will also offer front-wheel drive standard and the e-4orce all-wheel drive system as option. At launch, there will be four core 2023 Nissan ARIYA trim levels available. These include the base Venture+, the well-equipped Evolve+, the more advanced Premiere and the loaded Platinum+.
ARIYA Venture+ Trim
The Venture+ is the first of the 2023 Nissan ARIYA trim levels in San Antonio. This model has an AC synchronous motor that delivers power to the front wheels and makes 238 horsepower and 221 pound-feet of torque. It also has a liquid-cooled 87-kWh lithium-ion battery, a battery heater, 7.2-kW onboard charger, power-assisted front and rear disc brakes, a regenerative braking system with an e-Step mode and a 120-volt portable charging cable. Exterior features include 19-inch aluminum wheels with aero wheel covers, LED headlamps, LED DRLs, LED taillamps, power heated outside mirrors and an illuminated Nissan badge. The cabin features premium cloth upholstery, zoned climate control, a leather-wrapped steering wheel and ambient light. Technologies include a 12.3-inch touch screen, ProPILOT assist with Navi-link, front and rear parking sensors and over-the-air updates.
ARIYA Evolve+ Trim
Drivers in in San Antonio Texas who want a bit more amenities and technologies can have them by moving up to Nissan ARIYA Evolve+ at not much of an increase in starting price. The most notable difference here is that estimated top range is reduced to 285 miles. The powertrain is the same, and that difference just comes down to a slightly higher curb weight and increased power draw. The Evolve+ upgrades the cabin with a power panoramic moonroof, an eight-way power-adjustable driver seat, a wireless charging pad and a HomeLink universal transceiver. It also makes the cargo area more useful due to underfloor storage. The exterior is enhanced with LED fog lamps, a power liftgate and rain-sensing windshield wipers, and technology upgrades include a digital intelligent around-view monitor and an intelligent rearview mirror.
ARIYA Premiere Trim
The Premier is the third of the 2023 Nissan ARIYA trim levels in San Antonio and similar to the Evolve+ in that it has a 285-mile range and the same drive layout and power output as the base Nissan ARIYA. The Premier does boast a bit more stylish of an exterior. Different color schemes are available, and it adds 19-inch aluminum wheels with unique aero covers, a fancier emblem and badging and illuminated kick plates. From a technical and mechanical perspective, the biggest difference is ProPILOT Assist 2.0 and ProPILOT Park. ProPILOT Assist 2.0 links the standard ProPILOT Assist system with the navigation system to allow for semi-autonomous driving on the highway from on-ramp to off-ramp. ProPILOT Park is an automated parking system.
ARIYA Platinum+ Trim
The Platinum+ is the premium option among the 2023 Nissan ARIYA trim levels. The biggest difference is that it comes standard with e-4ORCE all-wheel-drive system. All of the other 2023 Nissan ARIYA trim levels in San Antonio are available exclusively with front-wheel drive. It is currently unclear whether Nissan will offer e-4ORCE on more trim levels in the future. Due to the second motor required for all-wheel drive, the estimated range is reduced to 265 miles, but the output is increased to 389 hp and 442 lb.-ft. This trim level also adds Nappa leather seating, Active Sound Control, a 10-speaker Bose audio system, heated and ventilated front seating and side mirrors with integrated LED turn signal indicators. The Platinum+ also gives you the option of special 20-inch aluminum wheels.