New Nissan Review 2023 Nissan ARIYA All-Electric Crossover – San Antonio TX for Sale in San Antonio Texas
Review 2023 Nissan ARIYA All-Electric Crossover – San Antonio TX
View Inventory


Vehicle Overview
Before you head home in your next all-electric vehicle, you owe it to yourself to learn about upcoming models. The 2023 Nissan ARIYA all-electric crossover has contemporary appeal and is attracting ample attention from auto enthusiasts. It is a new-generation vehicle that provides drivers in the San Antonio area with exciting features and thrilling functionality. It delivers a total package that is unlike any other crossover SUV on the market today. After reading an Ancira Nissan review, you can easily decide if the ARIYA is the all-electric crossover that you want to hold out for.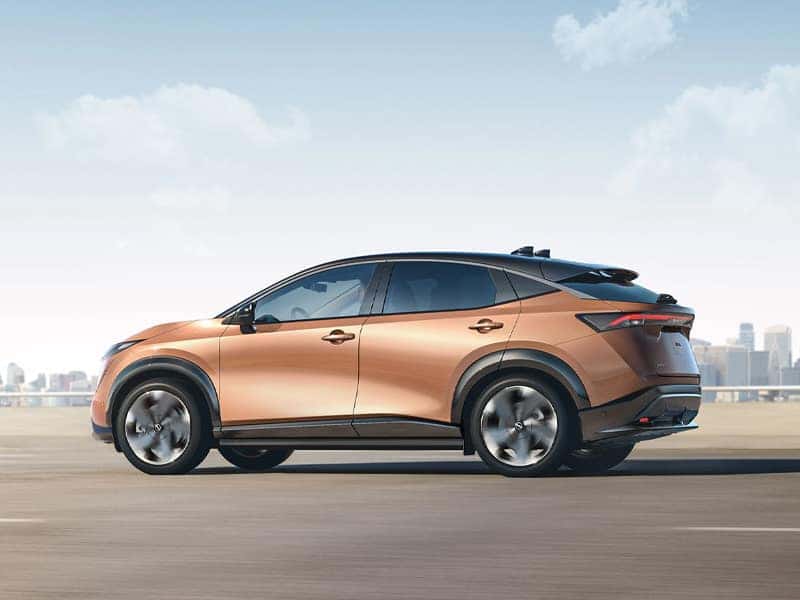 Exterior – 2023 Nissan ARIYA All-Electric Crossover
Our San Antonio Nissan dealership is honored to be your primary source for more details about the all-new ARIYA. We will happily show off this stunning model's style and features based on availability. From your first glimpse of the ARIYA, you will be blown away by its individualized styling. The rolling profile cascades smoothly over the short hood. The nose is rounded, and the grille shows off a modern spin on Nissan's traditional design. The U-shaped grille has a black, sleek finish with chrome accents, and it directly integrates with the LED headlights. The air vents mounted in the lower-front fascia are angled vertically for a distinctive feel. The thick molding that runs along the lower body has modest curvature, and this stands in contrast to the firm personality line that flows solidly along the upper door panels.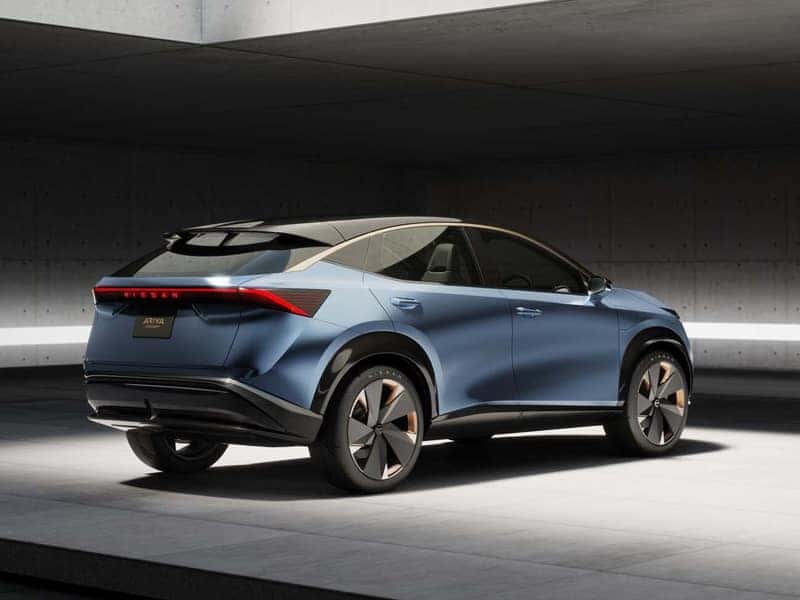 Interior – 2023 Nissan ARIYA All-Electric Crossover in San Antonio TX
The ARIYA joins the LEAF in Nissan's line of all-electric vehicles, but it stands boldly apart in terms of styling and capabilities. This new model's interior has zero-gravity seats across both rows. The dashboard is stunningly modern with dual digital screens spanning across the driver's instrumentation area and the center stack. A metallic accent piece runs horizontally below these screens from left to right, and it is only interrupted by the heated, flat-bottom steering wheel. The only other feature in the center stack is the climate system control screen. This screen is directly embedded in the woodgrain trim, and the design has a flush, unique look. The wood-accented center console is equally modern with a flat surface that rolls downward at the edges and a low-rise shifting knob. Some of the interior equipment that you may appreciate in your 2023 Nissan ARIYA include remote parking, a pre-heat or pre-cool function, Android Auto, Apple CarPlay, an elite sound system, an in-dash navigation system, heated front seats, a push-button engine starter, mounted steering wheel functions, blue accent lighting, a power moonroof and several other features.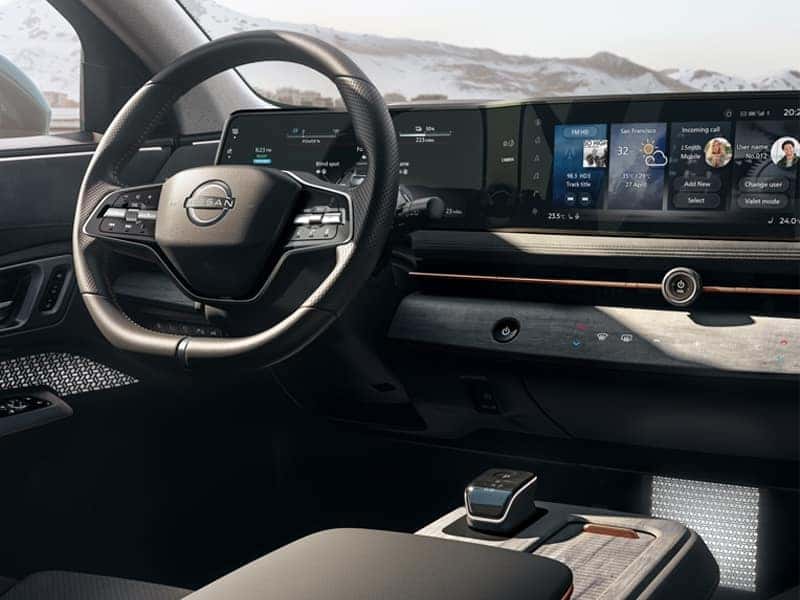 Mechanical – ARIYA All-Electric Crossover specs in San Antonio
The 2023 Nissan ARIYA all-electric crossover is well-engineered with sophisticated mechanical features, and it has the robust capabilities that you want from your next car. You can choose between front-wheel drive and all-wheel drive drive trains. The all-wheel drive version will yield zippier performance, but both versions deliver excitement behind the wheel. The ARIYA also comes with instant acceleration with full power sent to the front and rear wheels, all-climate traction control and enhanced cornering capabilities.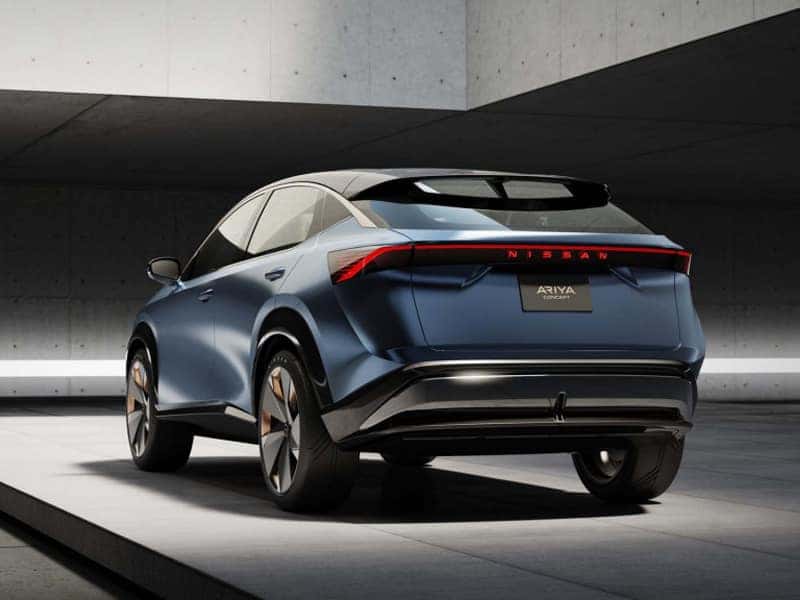 Powertrain – Nissan ARIYA All-Electric Crossover specs in San Antonio TX
Depending on which of the two batteries you select, the ARIYA can take you up to 300 miles on a single charge. In addition, you can appreciate up to 389 horsepower under your control. This is combined with acceleration up to 60 miles per hour in only a few seconds. Because this is a new model with robust capabilities and modern equipment, it deserves your full attention through a test drive at our San Antonio Nissan dealership based on availability.
Safety – 2023 Nissan ARIYA All-Electric Crossover dealer
All modern Nissan models are well-appointed with an extensive array of safety technologies and equipment, and the ARIYA has some of the most innovative features available. This includes standard features like lane keep assist, a lane departure alert, pedestrian detection, auto emergency braking and ProPilot 2.0 technologies. It also comes with airbags, semi-autonomous technologies, adaptive cruise control and numerous other standard or available features.
Through a detailed Ancira Nissan review, you can get familiar with the all-new ARIYA and its exciting engineering and technological advancements. This is the all-electric crossover SUV that you need to sit behind the wheel of as soon as it is available. If you are ready to learn more about the 2023 Nissan ARIYA, reach out to our San Antonio-area dealership's sales reps today to inquire about its availability and updates.