Tire Alignment in San Antonio, TX
Tire alignment can help your tires perform properly and help them last longer. It can also improve handling and keep your vehicle from pulling in one direction or vibrating strangely on the road. Alignment refers to an adjustment of a vehicle's suspension – the system that connects a vehicle to its wheels. It is not an adjustment of the tires or wheels themselves. The key to proper alignment is adjusting the angle of the tires, which affects how they make contact with the road.
3 things we look for in a tire alignment:
Camber: This is the inward or outward angle of the tire when viewed from the front of the vehicle. Too much inward or outward tilt, also known as negative or positive camber, respectively, indicates improper alignment and will need to be adjusted.
Toe: The extent to which your tires turn inward or outward when viewed from above
Caster: The angle of your steering axis when viewed from the side of your vehicle. If you have positive caster, the steering axis will tilt toward the driver. Negative caster, on the other hand, means the steering axis tilts toward the front of your vehicle. Your caster angle helps balance steering, stability, and cornering.
Tire Wear and Alignment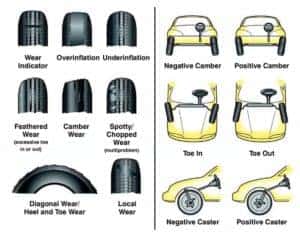 No Appointment Necessary!
Stop by Ancira Nissan at your convenience to have your tires aligned. We can help you save some time if you schedule a service appointment.